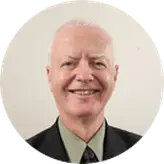 Barry Gray
49 Sermons
Barry Gray praises the Lord for saving his soul at age 18 and then directing his new life a step at a time. He was raised near Pittsburgh, PA and attended Penn State classes in Aerospace Engineering before God changed his heart's desire to study His Word and be ready to serve Him wherever He led.
Barry began his studies at Liberty Baptist College in 1979 and served in various summer ministries in Philippines, Florida, New York City, and Virginia. God blessed him with B.S. In Cross-Cultural Ministries, Master of Arts in Religious Education, Master of Arts in Christian Counseling, and almost a Master of Divinity from Liberty Baptist Theological Seminary.
Barry has been married to his beautiful Karen for almost 36 years and they enjoy their family of six adult children and soon to be five grandchildren. He has had the joy of serving in local church positions by teaching and sharing His love for God's Word with his dear family and other believers.
His life verse is Psalm 27:4 One thing have I desired of the LORD, that will I seek after; that I may dwell in the house of the LORD all the days of my life, to behold the beauty of the LORD, and to enquire in his temple.