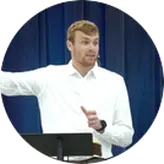 Brandon Hawkes
24 Sermons
Brandon Hawkes grew up in Charlotte, North Carolina with two loving parents and 3 brothers. There he spent his free time playing games in the neighborhood with his friends. After high school he attended NC State University. Things changed for Brandon when he was a junior and it finally clicked for him that Jesus demanded to be not just his Savior, but also his LORD.
With Christ as his master, Brandon stopped resisting his call to ministry and got more plugged in with a campus ministry called RUF. He graduated with a B.S. in Forest Management and went on to serve with RUF at Western Carolina University. It was there that he met his God fearing, Jesus loving wife, Annalee. Once Brandon asked her out, eight months later they were married!
Within months of being married, the budding Hawkes family moved to Charlotte where Brandon would begin seminary at Reformed Theological Seminary (RTS) while serving as a pastoral intern at East Charlotte Presbyterian Church. There they had their first child, Camila, and learned many valuable lessons while witnessing anew the faithfulness of God. After graduating with a Master of Divinity (M.Div.) from RTS, Brandon, Annalee, & Camila moved to the Cane Bay area to serve at Hope Community Church in the fall of 2021. Not long after arriving, their second child Dawson was born. They are thrilled to be here and to serve God's kingdom!