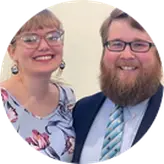 David Carnes
83 Sermons
Rev. David Carnes was raised in a Christian home near Philadelphia, PA. He has never known a time in his life when he didn't know the Gospel and trust in Jesus Christ for his salvation. David began to sense a call to ministry when he was around 15 years old.
                                                 After graduating high school and a gap year, he moved to FL to attend Reformation Bible College in Sanford, FL. Through one of his roommates, he started attending Lake Sherwood Orthodox Presbyterian Church in 2012 and became a member in 2013.

David remained at Lake Sherwood through his college education (B.A. in Biblical Studies, 2016) as well as his subsequent seminary education at Reformed Theological Seminary Orlando (M.Div, 2019). During his time at seminary, David served as a part-time intern at Lake Sherwood, and after graduating seminary, he completed a full-time year long internship there. He was then called as an Associate Pastor in the fall of 2020.
In his free-time, David enjoys reading (especially theology and history), good fellowship, sports, video games, and spending time with his wife Joelle.