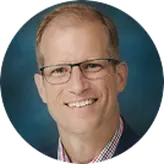 Ted Johnson
820 Sermons
Ted Johnson has been the preaching pastor of Owasso Bible Church since its founding in 2007. His ministry emphasizes careful verse-by-verse exposition of the Bible and encouragement to actively live out the faith and share the good news of Jesus with the world around.
Ted has enjoyed actively serving within the church since college and was an Industrial Engineer for seven years prior to feeling compelled to preach God's Word and help lead His church full-time. Before coming to The Bible Church of Owasso, Ted earned a Masters of Divinity from The Master's Seminary and served for three years as an Associate Pastor at Tulsa Bible Church.
Ted's wife, Beth, is the love of his life and his helper in ministry. Ted and Beth love living in Owasso and are blessed to have three teenage children. Ted enjoys being outdoors, reading, family time, and spending time with other believers.