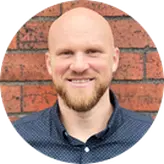 Matt Green
157 Sermons
Matt was born and raised in West Virginia, USA. In early-2004, he gave his life to Christ. Later that year, Matt began his formal education and training to become a preacher. It was there in Bible college that Matt met Amanda. Not long after, they were married. God has since given them two sons, Parker and Hudson.
​
In November 2012, the Greens moved to Stoke-on-Trent, where Matt served as Assistant Pastor at Milton Baptist Church for three years. In March 2016, Matt became one of the Pastors at Blurton Baptist Church.
He is also a regular tutor at the Theological College of North Staffordshire (in Milton, Stoke-on-Trent) and Baptist Bible College (in Telford), where he trains young men for Christian ministry.
​
Matt has a heart for preaching, teaching, evangelism, discipleship, music and Gospel community.