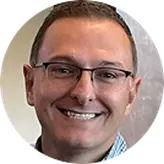 Steve Harness
1,499 Sermons
Steve enjoys reading the scriptures, action novels, and books about survival skills, spending time with his family, listening to music, drinking Dunkin' coffee, and watching New York Yankees baseball and Memphis Grizzlies basketball. He and his wife Natalie have been married over 20 years and are blessed with three children. Together, Steve and Natalie are thankful for each opportunity the Lord has given, and they desire to "serve the Lord with gladness" while seeing people trust Jesus and grow in their relationship with the Lord.
The Lord has blessed Steve with several educational experiences including a Bachelor of Bible at Pensacola Christian College, a Master of Divinity (M.Div.) from Mid-America Theological Seminary, a Master of Ministry (M.Min.), and a Doctor of Philosophy (Ph.D.) of Religion (in Counseling) from Bethany Divinity Seminary. He is nearly complete with a Doctor of Ministry (in Apologetics and Theology) from John Rawlings School of Divinity. He is also a Board-Certified Christian Counselor (BCPPC) and a SYMBIS facilitator.
He is available for special conferences and training sessions. Please get in touch with the Wilton Baptist Church office to discuss a special meeting. 518.583.2736.