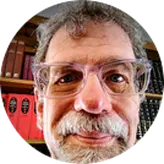 Dr. James Hofman
565 Sermons
Pastor Jim was born in Bakersfield, California and raised 30 miles north in the small town of Delano, California. He graduated from Fresno State University, where he was active in Campus Crusade for Christ (known today, simply as CRU.) After college, his hobby became his career. (He was hired by Theater Center America to travel the country as a professional sleight-of-hand magician.) His stage name was "Martin White." But the travelling and performing up to 6 shows a day, eventually grew old and Jim moved back to Fresno, where he met and married his wife, Patti. (Patti has a 4 year college degree in Communicative Disorders and frequently does sign language for the deaf, at many of our church events.) They moved to Portland Oregon, where Jim attended Western Seminary and obtained a Master's Degree. (Later, he returned to Western Seminary and completed his doctorate degree in 2011.) Jim and Patti have two daughters, who actively serve the Lord with their husbands, and two granddaughters.
Living Water is his third church. From 1987 to 1990, Jim was the Sr Pastor of Grace Evangelical Church in Fresno California. From 1990 to 2003, he was the Sr. Pastor of Westside Community Church in Los Banos California. He has been the pastor of Living Water of La Pine, since July of 2003.
While pastoring in California, Pastor Jim began teaching public speaking and interpersonal communication (part-time) for Merced Community College. Since 2009, he has been a part-time faculty member of Central Oregon Community College, in Bend Oregon, teaching the same courses that he taught in California. He enjoys being able to minister in the church and in a secular academic institution, as well.