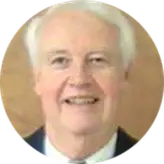 John M. Otis
829 Sermons
John M. Otis received a Masters of Divinity degree and a Masters of Christian Education degree from Reformed Theological Seminary in Jackson, MS in 1979. He was ordained as a minister of the gospel by Westminster Presbytery (PCA). In 1990, he transferred his membership from Westminster Presbytery (PCA) to Covenant Presbytery (RPCUS). In September 2009, John received a call to be the evangelist/pastor of the Covenant Reformed Presbyterian mission work of the RPCUS in Burlington, North Carolina. As of May 9, 2011 the mission work became a particularized church with the installation of a ruling elder and John as the pastor.
Throughout his years of ministry, Pastor Otis has engaged in an extensive writing ministry, having authored 11 differing titles, of which most are available at www.triumphantpublications.com.
John is married to the former Christine Weagly of Columbia, SC. They have three adult sons, Jason, Brian, and Derrick.