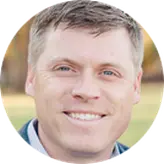 Marshall Fant IV
354 Sermons
Marshall Fant was born in Anderson, SC and moved to Rock Hill with his family in 1996 when his father became the pastor of Harvest Baptist Church.
Marshall was called to preach following his freshman year at Clemson University and finished his college degree at Bob Jones University with a Bachelor of Arts in Bible, graduating in 2007. He completed his Master of Arts in Bible at Bob Jones Seminary in 2009 and his Master of Divinity at Calvary Baptist Theological Seminary in Lansdale, Pennsylvania in 2014.
Marshall joined the staff of Harvest in 2009 as an Associate Pastor and became the Senior Pastor in 2017.
Marshall married Jenna in December of 2007. Both Marshall and Jenna worked several summers at The Wilds and were lead counselors there. Marshall and Jenna have four children.