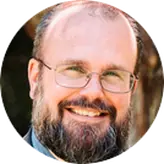 Grant Van Leuven
1,343 Sermons
Pastor Grant Van Leuven accepted the call to the Puritan Reformed Presbyterian Church (PRPC)in June of 2010, and moved with his family to San Diego at the end of August to begin serving the saints here. He was ordained and installed as pastor by the Session of the PRPC on November 5 of that year.
Pastor Van Leuven graduated with a Master of Divinity degree in 2010 from the Reformed Presbyterian Theological Seminary in Pittsburgh, PA, where he also served for a number of years as the director of development and communications. Prior to working for the seminary, he served as an account executive for a large Pittsburgh ad agency and for WORD-FM radio (Salem Communications), as well as Director of Communications for several non-profit organizations, including the Pittsburgh Zoo and Aquarium.
Pastor Van Leuven also serves as the Alliance of Confessing Evangelical's community engagement coordinator which includes contributing articles for the ministry's PlaceforTruth.org and reformation21.org e-magazines; he also serves as managing editor for PlaceforTruth.org and assistant editor of MeethePuritans.org. For a listing of his articles and links to read them, click here.
Originally from Rochester, NY, Pastor Van Leuven lives in Chula Vista with his wife, Fernanda, and their seven covenant children: Rachel (19), Olivia (17), Abraham (14), Isaac (9), Gabriel (4), and Gideon (2), and Giulianna (2 months). He also enjoys songwriting, and his original music reflecting a Reformed Christian worldview can be downloaded for free at www.dumbsheep.org.